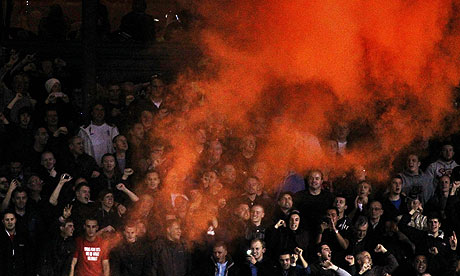 100% record.
Infusion of exciting young players.
Bucketloads of goals sweeping all before them.
This is a good time to be a Manchester United fan, actually scratch that, this is a GREAT time to be a Manchester United fan. The youthful adventurism we had been craving has arrived and even earned a surprising number of admirers for our faith in raw British talent. Over this week however it struck me that even with all this cause for jubilation, several United fans remain committed to nashing their teeth at all around them. In this post I will attempt to reflect on why many United fans appear so keen to hate.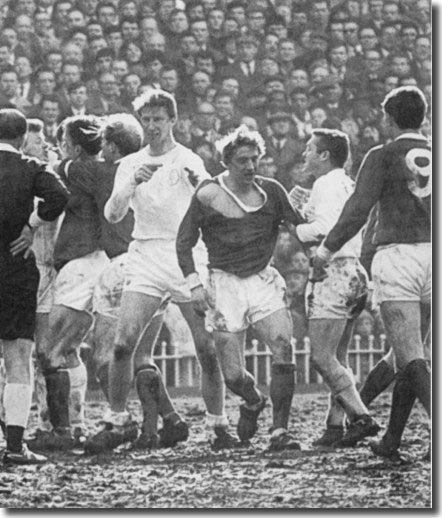 Elland Road. Home of 'dirty Leeds'. Scene of many battles over the years.
This was never going to be a 'friendly encounter' regardless of what happened on the pitch. A vitriolic welcome was in store before the players even arrived at the game, as Ferguson testified. Both of these football clubs, like a depressingly high number in Britain, have experienced tragedy. Munich is a shadow which will always hang over Old Trafford and a proportion of Yorkshire supporters are far from shy about expressing their schadenfreude. Predictably the Munich chants have become a feature of the fixture. In this latest encounter, as The Replacements strolled to victory, the response from a vocal portion of the away support was to taunt the home fans over the stabbings that they suffered in Turkey just over a decade ago.
This deeply saddens me for many reasons.
You don't need to be Gandhi to recognise that this kind of reaction reflects badly on the club as a whole. We rightly condemn those who seek pleasure in our pain and demand national recognition when it occurs; as happened as recently as April of this year. One of the few things I learned in my embarrassingly basic A'level law class was 'one who comes into equity must come with clean hands.' By responding in kind we undermine our case in a way our tormentors could never dream of and actively encourage other opposition fans to continue with this ugly, yet satisfying practice.
I myself confess to being guilty of gross hypocrisy when I shamefully recall bombastically joining in with 'we won it three times'; not content with securing an impressive hat-trick of European trophies I sought the coup de grace of highlighting the tragic events of Heysel. My insufficient defence would be my age yet this further highlights the long-term cost of behaviour many dismiss as 'banter' or 'tribalism'; violence begets violence and the same can be said of hatred. Our game has changed in many unforeseeable ways – many for the good, such as the widespred rejection of racism – yet the continued 'pantomime' of mob celebration of tragic events is passed down the generations like a torch. How many young United fans were eagerly teaching their friends 'Always look out for Turks carrying knives' on Wednesday morning ignorant or unable to comprehend the message they were propagating.
A common defence has been that Munich chants – at all levels of the game – have been going on for years without major censure. The reporting by journalists like Oliver Kay of the Turkish chants were met with angry defences that amounted to little more than 'they started it.' At the risk of over-politicising the issue it does seem to reflect similar warped logic as firing rockets into civilian areas being a justifiable response to illegal occupation. The argument that United related negative acts are disproportionately highlighted has some factual basis; yet this is surely an irreversible product of being the biggest club in the country.
Away from the stands further evidence of United fans unable to resist the opportunity to hit out at any who dare to question our club. It could maybe be argued that Ferguson's favourite tactic of encouraging a siege mentality has in turn extended to the fans. Our former midfielder gave a fascinating interview in which naturally quotes were handpicked to suit tabloid agendas. The response from most fans on my timeline encouragingly was to rightly place the comments in context and express the entirely logical view that for a player to fail to reach any level of match fitness in three years suggests his treatment – however well intentioned – was unsuccessful. Most accepted that a released employee, looking to resurrect his career, had the right to give his honest answers to questions from a respected journalist. Some fans however (and stress it is a minority) chose to advertise their 'outrage' at anyone besmirching the good name of their club. Petty insults (mocking a players hair? Really?) and unpleasant hopeful predictions of further injury problems cropped up.
Hargreaves should certainly not be relieved of any blame for the reaction; as heartening as it was to hear his positive words about the club he is intelligent enough to know that having chosen to sign for our city rivals and any interview – no matter how balanced – would be seized upon by those looking to profit from whipping up a frenzy. Choosing language like 'guinea pig' when reflecting on the treatment of a club who paid him handsomely and financed his repeated visits to the foremost knee surgeon in the world is at best ill-considered and at worst ungrateful.
Unsavoury? Yes, but in the grand scheme of things hardly important. The interview is already chip paper and the world moves on. However the relish with which some fans take to defending everything associated with our club I find genuinely baffling. I care deeply about Manchester United; I adore the football we stand for and have gained more pleasure than I could ever wish for from a succession of men in Red shirts. We have often carried ourselves with great dignity and should rightly be proud of our history. Yet the club today is far from the perfect expression of sporting purity; our owners operate like a villainous cartel from a James Bond movie, and our genius manager on ocassion comes out with public statements that make me want to cover my face with embarrassment.
We live in an age of extremes and football is no exception. The speed with which the collective can be energised into a potentially violent mob is part of human nature. As those familiar with my views will know; the Rooney transfer request episode still rankles, yet as upset and angry as I felt the idea of dawbing threats on billboards and loitering with intent outside his family home is alien to me.  Similarly, as much as I despise the parasitic Glazers I stop well short of wishing death upon them.
Let me be clear that I do not view this purely as a United problem; it is a cancer that continues to infect our football. Nor do I long for a time when rival fans exchange friendly handshakes and stay mute for fear of offending one another. The modern spectre of high tech theatres populated by motionless voyeurs is to be deplored. Similarly you don't have to look far for fans ignorantly condemning all who dare to criticise their club; post-one mild critique on twitter and the onslaught is as predictable as the crimes against grammar the responses will contain.
I love the tribalism and rivalry of football – it is one of the unique features of sport. As Keane famously commented, the clash of athletic institutions on one pitch is akin to war. I rejoice at a Liverpool defeat almost as much as a victory of our own. I have found though that as I have advanced in age I am increasingly viewing this fine sport as just that – sport. When rivalry spills over into personal attacks and a relegation of morality then there really are no winners.
One of our finest traditions is 'Attack! Attack! Attack!'; I just wish it was a philosophy that did not extend beyond the pitch.
Like what you've read? Follow me on twitter @TomPattison