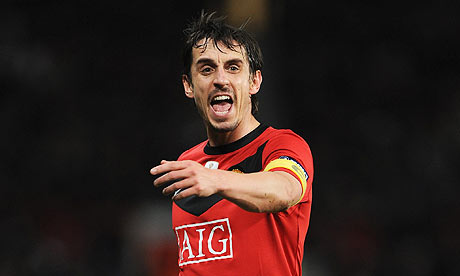 Many club football fans typically abhor international breaks. They spend the intermittent time between their club's fixtures to deplore the lack of "proper football" and complain about their national teams. I certainly am no exception and my distaste for the US national side is well-documented. But unlike others, I have come to enjoy the international breaks, mainly because it allows a brief respite from the cacophony of the regular season and provides perspective.
Given the opportunity to take a break from the day-to-day minutia involved in covering a club like Man United even in the minor capacity of being a blogger has been pleasant. I decided to sit down and go over the current United squad and pick areas in which there is room for improvement. United's inefficiencies in midfield have been discussed ad nauseam and while the need for a bit of thunder to the lightning of players like Nani and Ashley Young sticks out like the ugliness of Joleon Lescott, another area of the pitch remains overlooked by the entire fan base: right back.
United were blessed with the stability and talents of Gary Neville for many of the golden years at the club, but his inability to return to form after a few injuries and loss of pace led to his becoming a peripheral figure and eventual retirement. The reds have skated by with playing centre backs, centre midfielders and even wingers as right backs over the past few years to obvious success. This is as much a testament to the genius of Sir Alex Ferguson as it is to any of those players' talents.
But now is the time when United are in definite need of a proper right back. I have recently become of the opinion that stability is crucial in the maturation process of any young player and thus continuing to play centre backs Chris Smalling and Phil Jones in such a role is ultimately damaging to their development as centre halves. Rio Ferdinand is not getting any younger and his performances of late have left something to be desired. Either Smalling or Jones ought to be taking over that position, and one should own it completely by year's end. Both of them have played well when deployed on the right, but I would argue that it would be unfair to expect that to continue. It has become common knowledge that Smalling prefers a central role and at only 19 years of age Jones is still at the point of his career in which he can be molded into any position. Jones is ultimately bound to play as a centre half and his meteoric rise over the past few months to the most consistent performer for United has hastened the conversation concerning Nemanja Vidic's future with the club.
Before we get too much further, I do not think United should sell Vidic this summer. He has been the best centre back at the club for some time and may go down as one of the best to ever put on our shirt. But if Sir Alex is presented with a good offer for the Serb in a few years, the partnership of Phil Jones and Chris Smalling will offer the same stability that the Ferdinand Vidic one of a few years ago did.
The international break has also given me an opportunity to watch some footballers that my obsession with United usually precludes. One player that has particularly caught my eye is Tottenham Hotspur's Kyle Walker. Some do not see him as "United-quality," a phrase I think should be permanently banned on twitter, but I think he has excellent potential to be the answer at right back. His ability to get forward is unquestioned and his defending has improved immensely over the past year.
Even if one is not convinced by Kyle Walker, there are a few candidates for the position internally and externally that deserve a look. Obviously United's Brazilian twins Fabio and Rafael merit an opportunity and I would hope that one of them is able to nail down a regular role in the first team by season's end. As a friend of mine remarked to me on twitter, Zeki Fryers is also a decent option for the future on United's right flank. Regarding Zeki there still remains much work to be done but his natural talents have been clear to see in his play for United in the Carling Cup this term. Outside of Walker, United's external options for right backs ought to include Gregory Van Der Wiel of Ajax and Phillip Lahm of Bayern Munich. Obviously the latter would be very tough to get and is essentially more pipe dream than a plausibility.
United's search for Mr. Right will continue throughout the season, not only at right back but also in the midfield. Whether Anderson will ever prove himself still remains to be seen, as well as if United currently have a player in the midfield that can combine well with Tom Cleverley. But as Martin Tyler said earlier in the week the perfect team has not been invented and many people in the early going were too quick to say that this year's United was that team. As we collectively take a deep breath before we take the emotional plunge back into the world of club football, it is important to maintain a sense of perspective. Team sport is all about the continued pursuit of perfection in spite of the impossibility of realising such a pursuit. United will keep on keeping on and we will learn much about this year's team with each passing week. But for a club like United FC, it is as Jay-Z puts it in "Diamonds From Sierra Leone" "Difficult takes a day, impossible takes a week."