As well as having the pleasure of writing for The Faithful, I also guest on  the 'Can they score?' podcast; a weekly pod reviewing the latest games, debating the latest news and previewing upcoming fixtures for our beloved Manchester United. This article first appeared on the blog of the same name. Please have a listen to the pod and if you like it subscribe via iTunes.
So here we are then; sandwiched neatly between the Jubilee and the Olympics comes the real point of interest for the summer – the European Championships.  It feels like the end of an era as group stage competitiveness is sacrificed for a bloated 24 team format to indulge the whims of Platini.  Despite this I shall leave my cynics hat aside for once. I have spent the last few days eagerly hoovering up tournament previews and the result is a mood of quite giddy excitement. Regrettably what with teaching, playing football, podcasting and attempting to be a half decent husband I lack the deep knowledge of the European scene that messrs Cox and Marcotti gain from watching so many games. I have therefore picked out some players in a loose eleven that I am excited to see with a brief explanation of why. I may even chuck in the odd stat in as this is a set of Pattison Player Profiles after all. I made a rule that only one player per nation so please consider that before slating my choices.
Goalkeeper:
Rui Patricio (Sporting Lisbon and Portugal)
Depending on which preview you read, Patricio might not even start for Portugal which would be a shame given the praise that has been showered on him from those who have followed him this season. I confess to not being a keen viewer of his domestic league but have been impressed by his displays in Europe. If Portugal are to have a hope of getting through to the knock-out stages they will need not only the goals of Cristiano Ronaldo but a solid rearguard. At the age of 24 this could be Patricio's chance to shine.
Left back:
Philipp Lahm (Bayern Munich and Germany)
As regular listeners of the pod will know,
James
and I have an Anderson's belly sized soft spot for a certain Irishman who served Alex Ferguson faithfully for so many years. Every time I watch Lahm play he reminds me more and more of Denis Irwin – comfortable on either flank, positionally impeccably, and packing a shot which can light up a game when you least expect it. A key player in every match from full back, in the Champions League this season only nine players made more passes per game and  he still achieved a 90% pass completion. A brilliant technician and an absolute joy to watch.
Right back: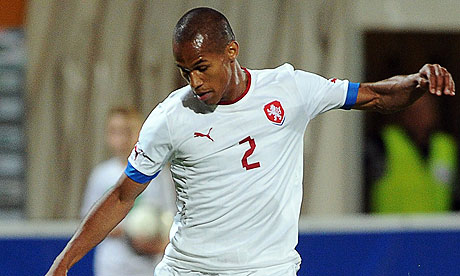 Gebre Selassie (Slovan Liberec and Czech Republic)
The majority of mentions of Selassie have surrounded his race. The first prominent black Czech international was always likely to arouse interest. The issue of racism has never been far from the discussion surrounding this tournament and the reaction of fans to a player of African origin representing an Eastern European nation will no doubt be under scrutiny. However it is the description of his style of play – driving down the right, known to trick his way into the box – which has garnered my attention. Perhaps a Dani Alves in the making and certainly a potential wild card in an otherwise predictable Czech side.
Central defence:
Leonardo Bonucci (Juventus and Italy)
Controversy and Juventus have been regular bedfellows in the new millennium yet my interest in Bonucci has nothing to do with gambling. One of my favourite defenders in Europe is Giorgio Chiellini yet the 'next great Azzurri defender' has played much of the season at full back to accommodate the fearsome partnership of Bonucci and Barzagli in the middle. He boasts superb anticipation – ranking fifth in Serie A in average blocked shots per game.  Pre-tournament talk has even mooted a tactical switch to an all Juve back three. The withdrawal of the latter means Chiellini is likely to be restored to the centre alongside Bonucci and it will be fascinating to see if they can take their club form into the finals. Bonucci will be under intense mental pressure – will it crush him or inspire a great tournament?
Central defence:
Daniel Agger (Liverpool and Denmark)
One of the joys of international football is club allegiance can (and should) be put aside. This means at last I can enjoy watching one of the finest young defensive talents in Europe without any guilt. Unlike almost all his club mates, Agger has enjoyed a superb season – improving his awareness whist continuing to possess the vision and passing so lacking in the midfield he endures in front of him. Amazingly he boasted the third best average pass completion stats of anyone at the club (actually maybe not amazing if you remember watching them). Enjoy him while you can though as good as he is, it'll take more for his national team to overcome Germany and the Netherlands.
Central midfield: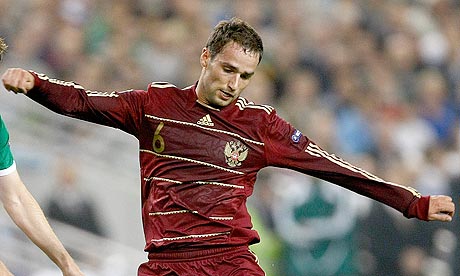 Roman Shirokov (Zenit St Petersburg and Russia)
Where to start with Shirokov? A player with a capacity to self-destruct who has the potential to bring both success and disgrace to his nation. One thing is for certain; they'll be no middle ground. His career path has been strewn with explosive moments (including confronting the fans of his own team in the stands, branding them 'morons' for risking abandonment of a Champions League tie) yet unlike our beloved Joey Barton he has the talent to justify the publicity. Champions League aside he will come to the tournament relatively fresh and is sure to leave a lasting impression.
Central midfield:
Anatoliy Tymoschuk (Bayern Munich and Ukraine)
It feels like Tymoschuk has been around forever and at the grand old age of 33 the smart money is on this being his final international tournament. It will then be a fitting send off for a great professional to end his tournament career on home soil. Despite filling in at centre back in the Champions League final, it is as a deep-lying central midfielder where he has made his name and impressively boasted the highest average pass completion of any Bayern player this season (90.6% for those who care). He is also moved the least in 90 minutes of any player I have seen live this season which is quite some feat when you consider I regularly go and watch English League One football!
Attacking midfield:
Santiago Cazorla (Malaga and Spain)
The second in the 'might not play' contingent I've chosen Santiago Cazorla perhaps in hope rather than expectation. Quite simply he has been sensational this season; for me, the most impressive player outside of the two superpowers. As the watching world cooed over the domestically under-achieving Basques, Cazorla led Malaga to Champions League qualification whilst his previous employers have collapsed in his absence.  He might curse his nationality as only Germany and the Netherlands could legitimately not find a place for him in their first eleven. If he gets the chance expect a new name to be on the lips of lazy British journalists looking to fabricate transfer stories to Stamford Bridge and Eastlands.
Forward:
Ibrahim Afellay (Barcelona and Netherlands)
The third player in this collection who might not heavily feature. However if the young play-maker does get his chance I am backing him to take it. The pre-tournament friendlies have been encouraging, with Robin van Persie talking up their 'connection', so hopefully we'll get the pleasure of watching him. A season on the sidelines at Barcelona will only have increased his desire to remind the global audience of his talents and that freshness might just be the key to helping him shine this summer.
Forward:
Robert Lewandowski (Borussia Dortmund and Poland)
The man with the name that
Chris
and
Ste
 memorably made a total arse of pronouncing on the season review pod. I considered being clever and choosing someone else as he's been the 'one to watch' in every preview – but for good reason. 30 goals and 10 assists in 43 appearances is a sensational return which unsurprisingly saw him linked with a move to Old Trafford. It certainly wouldn't be the worst idea given we have snared his provider-in-chief already, but if Lewandowski has a good tournament his fee could prove beyond Glazernomics.
Forward:
Karim Benzema (Real Madrid and France)
In the spirit of thrilling young strikers who United are destined to miss out on, here's Karim. The first time I saw him was when he terrorised Vidic and Ferdinand away in Lyon and his strength, pace and confidence brought to mind Ronaldo in his PSV years. A year or two of under achievement led many to feel Benzema has missed his chance but 2011/12 was the season he proved the doubters wrong in spectacular fashion. 32 goals and 12 assists in 40 appearances; even more impressive when you consider he has as much chance of being allowed to take a penalty or free-kick as Ilker Cassilas. If he can find similar form when separated from Ronaldo, Ozil and Alonso this could be his tournament.
So there you have it, certainly not the best eleven players at the tournament but a collection I dearly hope get plenty of minutes over the next couple of weeks. Who knows, maybe one of this bunch might be playing at United next season? (Sadly, it won't be Benzema!)
Comments are welcomed below and if you'd like to engage me directly then get in touch on twitter.
Like what you've read? Follow Tom on twitter @TomPattison