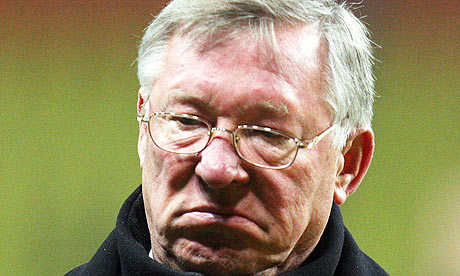 Age can be a curse. Despite being a spritely twenty eight I spend a remarkable amout of my life being reminded that I am 'not as young as I used to be.' As a teacher I look upon my Sixth Form students in particular with a mixture of sympathy and jealousy for all the excitement and heartbreak they are faced with on a daily basis. I seem to be discovering new muscles to pull with each football game I play whereas ten years ago I would think nothing of playing two games in a day. One night on the lash renders me entirely obsolete for at least 24 hours and the nocturnal lost weekends of my early twenties seem but a distant memory. Even in my part-time role of ill-informed United analyst on a United podcast I am routinely taunted for my advanced years compared to some of my junior contemporaries who probably celebrated the treble by writing 'MUFC forever' on their school bag. Allegedly though there is an upside to this onset of middle age – perspective. In this post I will attempt to delve into my archives to explain that the recent headlines proclaiming 'United in Crisis' are nothing new and should are rarely pre-cursors for the doom they predict.
November 1992 – United on the ropes
After so nearly ending the twenty five year wait for the Championship, United imploded over the final weeks of the 1991-92 season. Despite the crushing disappointment the feeling was that it was a question of 'when' not 'if' United would win the League title and that time would surely be May 1993. This confidence seemed misplaced in November 1992, as Ferguson's title favourites found themselves languishing in tenth place after fifteen games played. Kenny Dalglish's big spending Blackburn Rovers, fuelled by Shearer's goals, looked the team most likely as they competed with Arsenal and Aston Villa for the leadership. The Reds had won just two home games all season and had hit a new low when losing at home to Wimbledon. In the following week's defeat at Villa Park; United looked desperately short of inspiration with a midfield relying on the manager's son for guile alongside the industrious Ince. Wide options were plentiful but with both McClair and Hughes finding goals hard to come by and summer signing Dion Dublin ruled out for the season, it looked like the best chance of the League title returning to Old Trafford had been and gone.
Outcome of the crisis? United ended the season ten points clear of Aston Villa to become Champions of England for the first time since 1967.
November 1996 – Grey Skies overhead at United
The mid-90s was the period where so much of the prevalent 'anyone but United' attitude thrived like bacteria on a warm day. After the signing of Cantona, United had seemingly enjoyed an unbroken diet of success with only the disciplinary panel of the Football Association capable of halting our triumphant march. Fred the Red merchandise was flying off the shelves and quite frankly the rest of England was pig sick of it. So how the country rejoiced when in a quite remarkable series of games 'Fergie's Empire' appeared to have hit the self -destruct button. Just one win was picked up in the whole of October (a league cup tie against Swindon) as spectacular reverses to Newcastle (5-0) and Southampton (6-3) delighted the rest of the English game. Most pleasing of all in ABU eyes, evidenced by the bizarre kit switch on the South Coast, the very man responsible for such consistent success appeared to have descended into the kind of madness Howard Hughes would be proud of. Even the once impregnable Old Trafford was a shadow of it's former self as the home side meekly surrendered to Chelsea. All was not well; Paul Scholes was being forced to play on the left wing, David May was looking like an expensive mistake,  and even the untouchable Cantona would fail to trouble the scorers in the League from September to late December. Kevin Keegan's irrepressible Newcastle were keeping Arsenal company at the summit and the era of dominance appeared to be over.
Outcome of the crisis? United ended the season seven points clear of Arsenal to become Champions of England for the fourth time in just five years.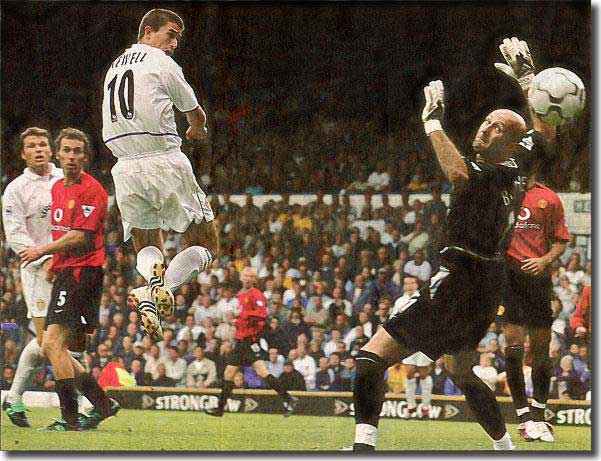 September 2002 – 'Ferguson's Midfield Crisis'
Panic  set in across Fleet Street as a double injury blow meant the finest partnership in Europe was unavailable potentially for thirteen key fixtures. The only available central midfielders of any status were the inconsistent Seba Veron and the sadly declining Nicky Butt. To make matters worse, Beckham was struggling for form and fitness due to persistent calf problem and Giggs was experiencing the kind of drop in performance levels which prompted a vocal element of the support to suggest his days at United could be numbered. The first test of whether the threadbare midfield could keep pace with the newly rouble-rich Chelsea and the Invincible Arsenal side was a trip to Elland Road. A one goal defeat typified by some bizarre goalkeeping from Barthez suggested a crisis was on the offing, especially with drafted in replacements such as Luke Chadwick failing to impress. The outcome of this crisis? Scholes returned way ahead of schedule by the end of September and barring a dead rubber fixture away in Israel United won every single game until a derby defeat in early November. Keane didn't return until Boxing Day where he struggled in a heavy defeat to Middlesborough, although by this point the 'Invincibles' had been slain largely thanks to the impact of the big new signing from Everton.                             
Outcome of the crisis? United ended the season five points clear of Arsenal to become Champions of England for the 15th time.
December 2006 – Leaderless and out of Europe.
As this blog has charted, there have been many false claims of 'crisis' at Old Trafford but even the most blinkered Red would find it hard to argue that all was rosy in the garden as 2006 approached its end. It was a very surreal time for me as I was volunteering in South Africa so keeping up with United news was tough. Rudely, the deprived areas of Kwa-Zulu Natal we were working in were far from internet savvy so I had to rely on Afrikaaner newspapers and phonecalls to my Dad for updates. It was a horrible sense of panic that I saw a picture of an unhappy Roy Keane in a small story in the sports section of our driver's paper one morning. As my heart pounded, fearing news of his injury troubles ruling him out for the season, I asked Mtoko to translate. 'He is gone,' he told me, 'Big fight with Ferguson. No longer Mr United.' I couldn't believe it, there had to be some mistake? United without Keane was unthinkable. A phone call home that night and it was confirmed by my very sombre sounding Dad. Keano was off to Celtic and United were in turmoil. To lose our inspirational leader in such an undignified way was bad enough but the misery wouldn't end there. After performing poorly throughout the group games, a 2-1 defeat at Benfica confirmed United would not advance to the knockout phase of the European Cup. Shorn of our leader, out of Europe, and lieing thirteen points behind Mourinho's juggernaut this seemed to be a trough that was beyond even Ferguson to drag us out of.  To make matter even worse, a mystery eye condition ruled Scholes out for the rest of the season meaning that our once great midfield had been decimated. A makeshift partnership of Giggs and O'Shea would see out the season.
Outcome of the crisis? United ended the season eight points behind Chelsea and one ahead of Liverpool to finish second in the league.
So what can we learn from these crises? Well for one thing bizarre centre midfield partnerships are certainly nothing new, losing our leading players for large chunks is the norm rather than the exception, and it is anything but unusual for us to be chasing a wealthy opponent as we approach the Christmas fixtures. The reality is that when faced with seemingly catastrophic adversity it is important to take stock and keep things in perspective. Manchester United 2011 are experiencing a very real crisis – but it is the parasitic ownership of our club that in my view legitimates the use of the word rather than our performances on the field. Wolves aside, watching United has been anything but a pleasurable experience of late but as things stand we are just two points of the lead. We find ourselves in a far better position than in many seasons gone by which with hindsight we look back on as triumphant campaigns. Our departure from Europe is humiliating but I for one see little harm in highly renumerated, highly self-regarding players to be reminded that they do not have a God-given right to go to a final each May to get tonked by Lionel Messi. Financially is perhaps where the biggest damage will be felt from our drop into the plate competition, but when the revenue was probably predestined to bail out a shopping mall in Texas I find it difficult to shed a tear. Ferguson himself has always found opportunity in adversity, he will learn about the capabilities and character of players. Will Evans emerge as a dynamic presence at the heart of our defence? Will Phil Jones develop into the midfield general we have been pining for since Roy left? Only time will tell but we should forget the doom and gloom and relish finding out.
Like what you've read? Follow me on twitter @TomPattison