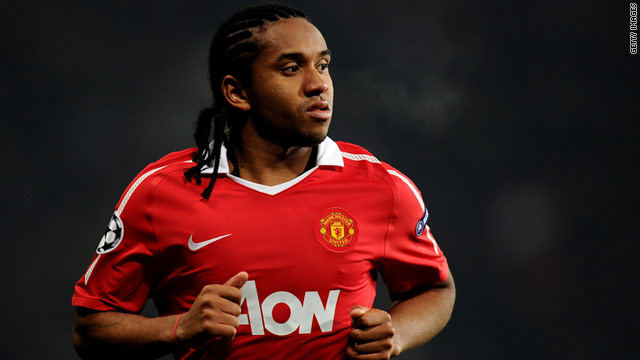 'We're signing Sneijder! David Gill's tieing things up in Milan today.'
'Nasri is a done deal, personal terms agreed, Arsenal prepared to let him go for £25m.'
Blah, blah, blah.
In the absence of genuine news since United did their summer business early my twitter feed has been populated with comments proclaiming the 'definite' signings of Samir and Wesley. On top of that has been even more suggestions of players we should be pursuing ranging from the sublime (proven international class performers like Lassana Diarra) to the ridiculous (Charlie Adam). All seem to be agreed on the need to recruit an additional central midfielder; a view I would tend to agree with given our richly promising youth players do not appear ready for the first team.
The element I have found surprising is the type of midfielder many fans have clamoured for. Personally I would favour an injection of steel rather than silk yet I am told we need a player who can bring adventure from central midfield. A player who can unlock defences. Someone who can link the midfield to attack like the Scholes of old. A player perhaps like this? "He is very young, very skilled in the pass, very intelligent and very fast.' ' A player voted star of the Under-17 World Cup. A player we already have.
The boss himself described Anderson in glowing terms: ' But when you've lost Keane and you've got Paul Scholes coming to the end of his career, you ask yourself: 'Who's going to perform that function for Manchester United?'. You know Anderson's going to become a terrific player – it's inevitable."
I don't believe Anderson is a terrific player. He and Nani were recruited in a seemingly masterful piece of business. In the same way that Smalling and Jones have been brought in to eventually succeed Ferdinand and Vidic; Nani and Anderson were destined to soften the blow of Scholes and Giggs impending retirement. Nani began to fulfill this potential last season providing a phenomenal number of assists combined with a goal threat that many fans appear to have forgotten about all too easily over the summer.
Anderson however is stuck in neutral.
Over four years on from his signing and we are allegedly in the market for a player to fill a gap we invested a vast sum on the young Brazilian to plug. I'm not even sure what type of midfielder he is given his propensity to exhilarate and exasperate in equal measure both as a tenacious destroyer (see Arsenal away 2007)  and an attacking midfielder (see Blackburn home 2010). Ferguson has even tried him out as a trequartista yet time and again he flatters to deceive; seemingly incapable of consistently, substantially influencing a game. Ferguson has been rightly praised for developing his tactical flexibility; it is no accident that the current squad is populated by players capable of performing in more than one role. The summer aquisitions (with the obvious exception of De Gea) indicate this policy will continue. As a result it is an asset that Anderson can play in more than one role yet his failure to assert himself as first choice in any is a feeble return on four years at the club. In the numerous line-up and tactical variation proposed by bored Red tweeters over the summer the absence of Anderson was apparent.
For whatever reason Anderson seems to enjoy a charmed existence with United fans. Maybe it is the jubilation of singing his chant which deludes so many of us into fighting his corner and hailing his 'potential'. After four years I am tired of waiting and would expect to see more evidence of potential coming to fruition than has been provided. For every dazzling performance there is an anonymous outing and the soap opera style of his private life is an unwanted distraction. The fevered speculation over a new central midfield signing should have provoked him to spend his summer working hard in the gym ready to press his case for increased responsibility as Ferguson reshapes the team. Sadly Anderson's return for pre=season training has been the same old story of a player over-weight and out of condition. If you feel I am being hyperbolic consider the response from our 'supporters' had Darron Gibson or Michael Carrick returned for training appearing to be carrying excess baggage.
I'm certainly not clamouring for the departure of Anderson. He has shown in patches evidence of a player capable of excelling but his Manchester United career for me is at a clear cross-roads. If as I suspect the rumours of signing an established star midfielder prove to be false this season is a golden opportunity for Anderson to show he has what it takes – both physically and mentally – to become the World Class midfielder he was tipped to become. We hail his bossing of Fabregas in his early days at Old Trafford yet in terms of player development you would be hard pressed to find even a loyal Red who would rate Anderson in the same class of player as the want-away Catalan. A degree of blame can be placed on the boss who has seemed perplexed as to how to deploy the young Brazilian; yet you could equally argue that the willingness of the boss to offer second/third/fourth chances to impress shows an enduring faith. However Ferguson has shown he will not wait forever and when a player fails to adapt and contribute sufficiently he is moved on no matter how talented – ask Seba Veron. It is time for Anderson to show the determination and focus required to become a fixture in United's future or risk being consigned to our past perhaps remembered in a chant for a new star:
'Morrison, son, son, he's better than Anderson.' 2011/12 needs to be the season of samba.
Like what you've read? Follow me on twitter @TomPattison